The site is designed and constructed by
Ashwin Architects of Bangalore
. The site is an east facing
property measuring 30' North to South & 40' East to West
located in Uttarahalli which is a suburb of South Bangalore city, India. This is a typical site in the
Bangalore
urban limits. The building is a column & beam structure with solid cement blocks as the wall materials. The roofs are basically concrete slabs with steel reinforcements. The external & internal surfaces are cement plastered.
Planning has been based on an open – format to visually enhance the size of the internals & interspersed with
skylights
to give an airy feeling & enhance the ambience.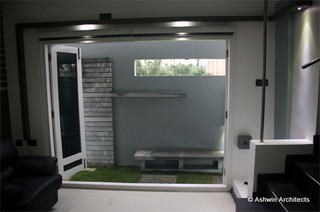 The
building facade
has been extensively treated with stone & glass to create a balanced composition of positive & negative spaces. The structure symbolizes modernity & imparts an element of sleekness in
design
.
The form has taken black & white as base colours & interspersed with various shades of grey. This monochromatic effort stylizes the play of light & shade on various surfaces. Strategically placed lights focus on certain planes & put the rest of the
building
in silhouette to dramatize the whole composition.
Source:
http://www.ashwinarchitects.com/residential.php?id=0
Posts: 5
Joined: Wed Sep 29, 2010 1:03 am
---
Posts: 61
Joined: Tue Nov 08, 2011 3:50 am
---
I am very pleased to invite you to visit our website
http://www.bestarcreations.com/?Joy
, where you can find the Scale models, Renderings, and animations we produced for Dubai Palace, and other interesting projects worldwide we recently worked with.
Winning schemes for University of Illinois Assembly Hall Renovation USA- Designed by AECOM
Winning scheme for National Council of Iraq- Designed by IConcept
Winning scheme for Tana Hotel, Africa-Designed by OCMA
Winning scheme for Pier 4, USA- Designed by ADD
Dubai Palace , Designed by GHE , Abu Dhabi
As a leading 3D architectural visualization company, Bestar Creations offers high quality architectural scale model, renderings and animation at a more competitive price and faster turnaround than its competitors. Our experienced professionals specialize in various ranges of architectural representations, and our service scale include Scale model, Renderings , Animation Multimedia and VR. Our high quality, fast turn-around, competitive price, and excellent service bring us many international clients and projects worldwide. Let us provide you with our expertise, and help your project stand out among your competitors!
With our 3D expertise, your project will Be a star & Be the Best Star !
Please visit
http://www.bestarcreations.com
for more details and images or email us (
- blocked due to abuse -
,
info@BestarCreations.com
)
Posts: 9
Joined: Wed May 04, 2011 5:30 am
---
---
Return to Residential Design and Building Forum
Who is online
Users browsing this forum: Google [Bot] and 4 guests